His Life in Wing Chun
Master Chu Shong Tin was born in 1933 at Kwong-tung Province of Mainland China. In November 1949, he left China and settled in Hong Kong. During September 1950, he started work as a secretary for the Association of Restaurant Workers of Hong Kong at 159 Tai Nan Street, corner Wong Chuk Street, Shum Shui Po, Kowloon. It was at that time that he first met the Grandmaster Ip Man who had just started teaching Wing Chun for about four months at that Union. As Ip and himself both came to Hong Kong alone gave them a feeling of being very close to each other. After several months' observation and urging by Sihing Leung Sheung and Lok Yiu, he asked Ip to accept him as his student and on 1st January 1951, thus starting his life in Wing Chun. (Right photo: Ip Man and Chu Shong Tin on the roof of the address of the Restaurant Workers Union)
As he had been observing for several months, he could show the whole Siu Nim Tau form to Ip on the first day of his lesson. Besides working hard on his own training, he also paid attention to what Ip was teaching to the other students. After about a year, Ip started to ask him to practice pivoting. When practicing this pivoting, he insisted practicing several hours each day. It was about half year later before Ip asked him to learn the Chum Kiu. And it was just like Siu Nim Tau; he knew the movements of the whole form already without Ip showing him.
Roughly after one year, he started to learn the Wooden Dummy. Every year, he learnt about twenty to thirty movements until the whole form was finished. It was about two years after he had learnt the Chum Kiu that he started to learn the Biu Gee form. Around 1955 was the first time he started to practice the long pole. As he learnt roughly one movement of the pole each year, it took him nearly seven years to finish the Six-and-a-half Point Pole.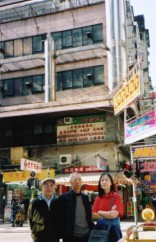 It was many years later after he finished all the hand forms that he started to learn the Butterfly Knives. During this time, he had started teaching Wing Chun part-time. Between the period of 1957-58, he used his leisure time to teach Wing Chun. This period could be divided into three different stages. The first one, he went to teach at the students' residences. At the second stage, when he stayed in the Hung Lau Hotel at 433 Shanghai Street, corner Dundas Street, Yau Ma Tei, Kowloon, the owner there allowed him to teach on the roof of the hotel. At the last stage, as he changed his job to work for the Association of Textiles Workers of Hong Kong, he made use of the space there to teach his Wing Chun. It was during this period that he started to practice the first part of the Butterfly Knives and it was approximately 1963.
In the summer of 1964, it was the first time he established his own school at Four Five Six Building of Nathan Road, Kowloon to teach students officially. At the same time, he learnt the second part of the Butterfly Knives. In l965, he moved his school to 3rd Floor, 11 Cheung Sha Wan Road, Shum Shui Po, Kowloon and in the same year, he finished the whole Butterfly Knives form. In 1967, he relocated his school again and moved to a block away at Flat C, 4th Floor, 3 Cheung Sha Wan Road, where he still teaches.
When he first started to learn Wing Chun, in order to give himself more time for practicing and also suggested by Leung Sheung and Ip Man, he moved to the Restaurant Workers Union to stay with Ip. He had lived together with Ip for about five years until he moved out in 1955 to Hennessy Road, Wan Chai at the Hong Kong Island side due to work commitment at the new job working for the Association of Taxi Drivers of Hong Kong in Wan Chai. Between 1951-55, he had followed Ip moving in 1953 to Hai Tan Street, Shum Shui Po, Kowloon. Then, in 1954, they moved back to the Restaurant Workers Union and in 1955, moved to Lee Tat Street, Yau Ma Tei, Kowloon.
Within the heart of Chu, Ip was a cultivated elder. Ip never talked about Kung Fu in front of people he did not know well. In appearance, Ip was so gentle that he looked more like a scholar than a martial art teacher. Ip did not put any dominated pressure on others, as most martial art practitioners would do. Before Chu followed Ip in learning Wing Chun, he did not particularly like martial arts. However after he met Ip, due to the personality of Ip in teaching unpreservatively and the profound theories of Wing Chun, he becomes infatuated with this martial art.
Besides learning Wing Chun, he was requested by his father when he was about ten to practice Tai Chi as he was too thin and weak. At that time, he did not really know what Tai Chi was about. He just followed what his Sifu had asked him to do and copied mainly the movements. As for practicing, he needed his father to urge him before he would go to train. It was so until he migrated to Hong Kong in 1949. At that time, in order to keep up with his Tai Chi, a friend of his elder sister volunteered to teach him. It was then for the first time that he started to listen to the theories of Tai Chi. Not long after resuming training in Tai Chi, he started to work in the Restaurant Workers Union. Therefore, he listened to the Wing Chun theories during the daytime and practiced the Tai Chi at nightime. After a few months of deep thinking, he felt that Wing Chun was more suitable for him than Tai Chi. Tai Chi and Wing Chun, on the surface, the theories and the way of thinking is quite similar. But the skill on applying the power, he personally thinks that they are opposite to each other. At that time, he was five feet and eight and a half inches tall but only weighed a hundred and twelve pounds, a little bit too thin. However with the skills of Wing Chun, it can help him develop strong destructive force without using any muscular strength. From then onward, he concentrated on studying and exploring Wing Chun until the present time.
Return to Chu Shong Tin
?€